iVitals - Cloud Blood Pressure Manager
Collaborate with your Medical Professional and actively manage your heart health with Cloud iVitals Blood Pressure Manager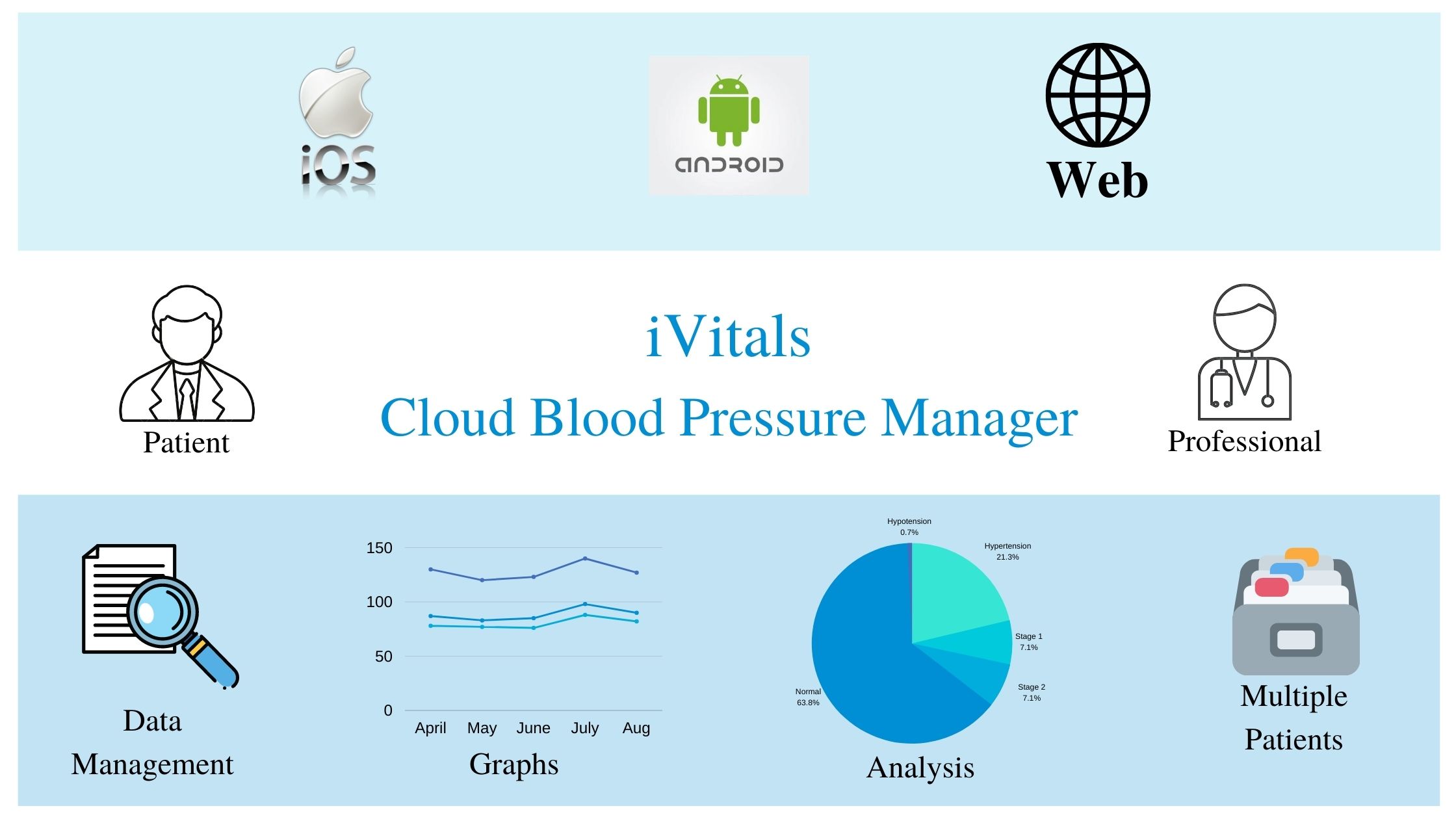 Why keep an eye on your blood pressure?
According to WHO, hypertension - or elevated blood pressure - is a serious medical condition that significantly increases the risks of heart, brain, kidney and other diseases.

An estimated 1.13 billion people worldwide have hypertension, most (two-thirds) living in low- and middle-income countries.
In 2015, 1 in 4 men and 1 in 5 women had hypertension.
Fewer than 1 in 5 people with hypertension have the problem under control.
Hypertension is a major cause of premature death worldwide.
Hypertension is called a "silent killer". Most people with hypertension are unaware of the problem because it may have no warning signs or symptoms. For this reason, it is essential that blood pressure is measured regularly.
Managing hypertension
Mental stress is known to be a major factor causing hypertension or elevated blood pressure. Reducing and managing mental stress may help to control your blood pressure.
You may be able to treating hypertension or hypotension conditions with medicines. Your medical practitioner will prescribe medications as required.
Regularly checking blood pressure is extremely important regardless of how you are treating your blood pressure condition. Additionally, keeping a log of all your blood pressure readings will provide you with a good reference of how your bood pressure is tracking.
How iVitals can help
Provide comprehensive heart vitals log to your medical professional
iVitals blood pressure manager will help you to easily record your blood pressure readings, securely store them on the cloud and make them available through any internet connected device or through iOS and Android apps.
iVitals is totally free. iVitals apps do NOT have ads and are easy to use.
iVitals can be accessed from multiple devices simultaneously - iOS phones and tables, Android phones and tablets or any internet enabled device via a browser.
Your data is safe and available anytime, even when you change your phone/tablet.
Add meaningful notes to each record for your reference or for your doctor.
Search your data and apply comprehensive filters on data, charts and analysis.
You can view averages, trend and valuable analysis in an instant.
Your medical practitioner can add you as their patient and review your blood pressure records as soon as you add them.
For any reason if you prefer not to use the cloud features then you can use the iVitals iOS and Android apps offline.
Your doctor may be able to provide better options by having access to a reasonably large blood pressure measurement record set
Web dashboard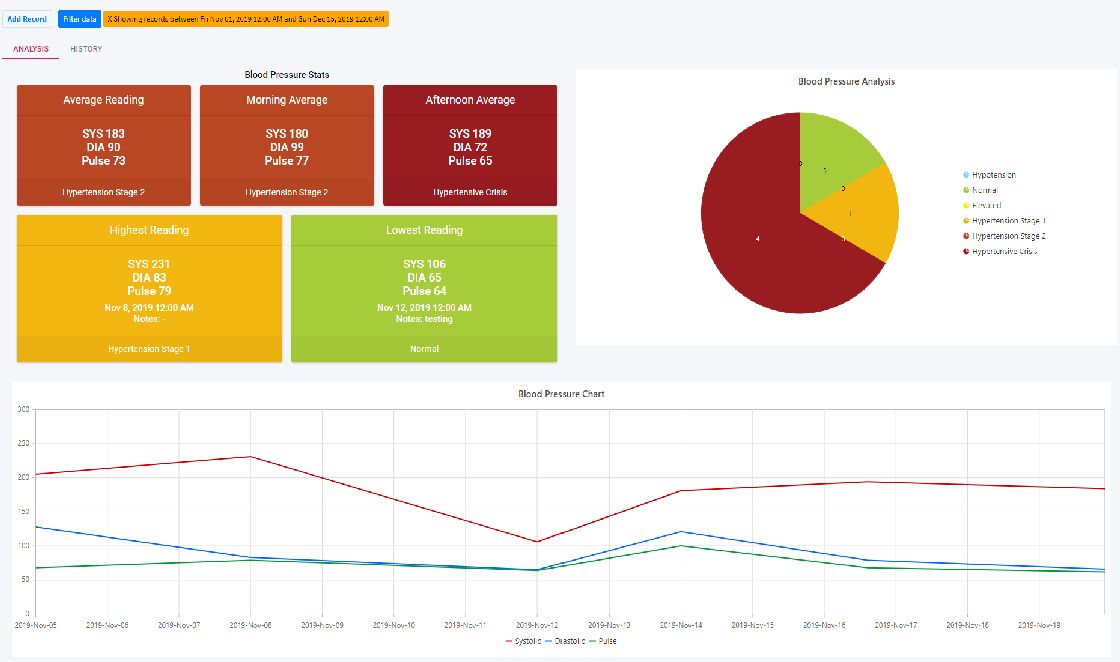 iOS & Android apps dashboard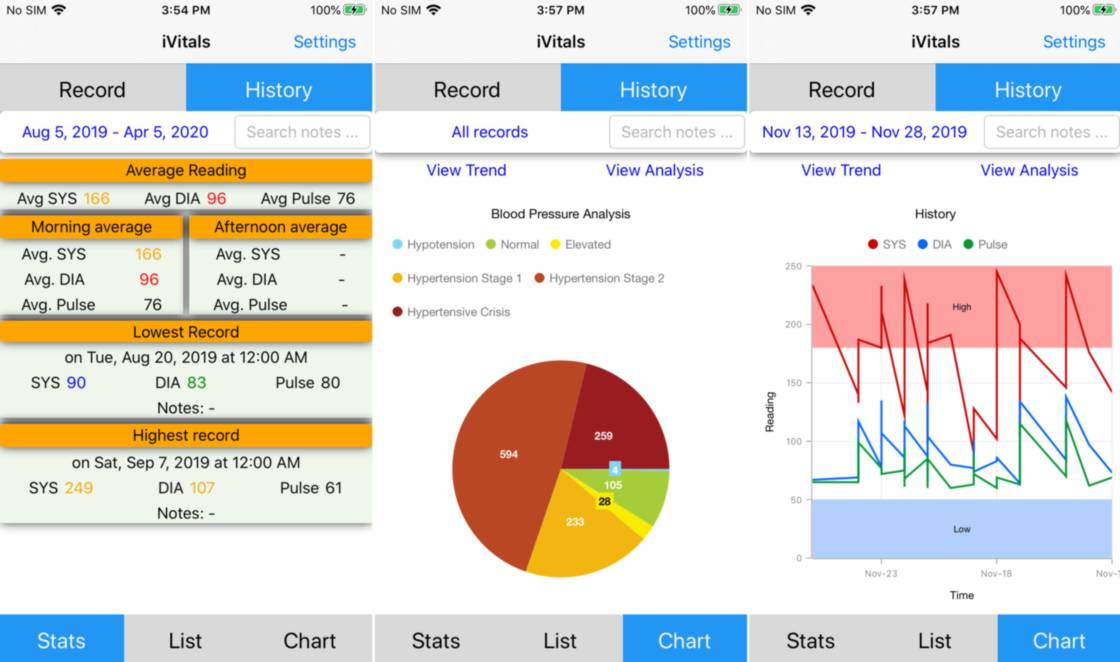 iVitals is offered as a free service. iVitals is not intended to provide health advice to individuals or to replace services provided by your healthcare provider. iVitals aims to support healthcare providers by making important heart vitals data readily available to make informed decisions for their patients.
Questions? Requests? Feedback? Please get in touch using the contact form.